Bonding is a popular method to enhance the aesthetics of your smile. Bonding can be used to correct cracks or gaps in teeth, as a filling after a cavity has been removed, or to cover up stains or discolored teeth.

A composite resin is used on the affected tooth or teeth. It is molded and sculpted over an adhesive gel that is placed on the tooth. After the resin has been applied, an LED light is used to harden the resin, which is then polished to give you a fresh, new smile.

Bonding (tooth colored filling material) is a beautiful alternative to unsightly silver amalgam fillings. With the advancements in dental technology, bonding usually lasts for over 10 years. It is a safe, affordable, and attractive solution for many dental problems.
In our office bonding is always used to place tooth colored fillings. Since the filling material is actually bonded to the tooth structure it provides for a seal to help prevent further decay.
Call for an appointment to see if you are a candidate for replacing those old silver fillings with tooth colored fillings.
Fractured Teeth Repaired in One Visit with Bonding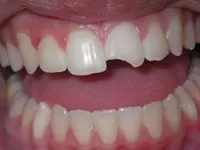 before                                                             after
before                                                             after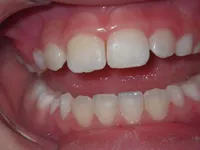 before                                                             after